ERP Adoption: 10 Lessons for a Post Pandemic World
Category : ERP
Blog posted by : Admin / 14 Apr, 2022
ERP adoption is rising in the post-pandemic world because it seamlessly integrates all processes, technologies and equipment needed to run a business, onto a centralized platform.
During the pandemic, the competitive landscape had amplified with its fluctuating market trends. Tackling industry-specific challenges was further aggravated by the sudden onset of pandemic-induced lockdowns.
While North America was still ahead in the ERP market race, Asia-Pacific is not far behind. The region is expected to lead the market share by revenue in the next few years.
As businesses transition to smart ERP systems in a post pandemic world, here are 10 Lessons for a Post Pandemic World when it comes to cloud ERP adoption.
Lesson 1: Cloud ERP is responsive, adaptive and scalable
Cloud computing software solutions can easily process larger workloads in the fraction of the time required to do it manually. On-cloud ERP software can be accessed instantly through any device. You do not need to spend on additional infrastructure and in turn you receive:
Speed
Performance
Scalability
Visibility
Accessibility
Before you migrate to the cloud, you need to evaluate your business needs and decide the purpose for ERP adoption. Once you have decided upon an industry-specific software, ask about customization options. Create ERP software that is truly unique for your business to maximize its potential.
Lesson 2: Forecasting is key for post COVID-19 economic recovery
The post pandemic volatility is here to stay. The traditional way of generating company projections will not suffice in the new world. For a business to survive, it needs dynamic automated forecasts.
Site visit predictions
Buying patterns
Payment patterns
Material delivery delay
Project profitability
Choose an ERP system with built-in AI forecasting to save time and receive actionable insights. Any Artificial Intelligence (AI) integrated program does the work of instantly analyzing past data to recognize trends.
It equips stakeholders from all departments with the means to generate predictive analytics for their set of data.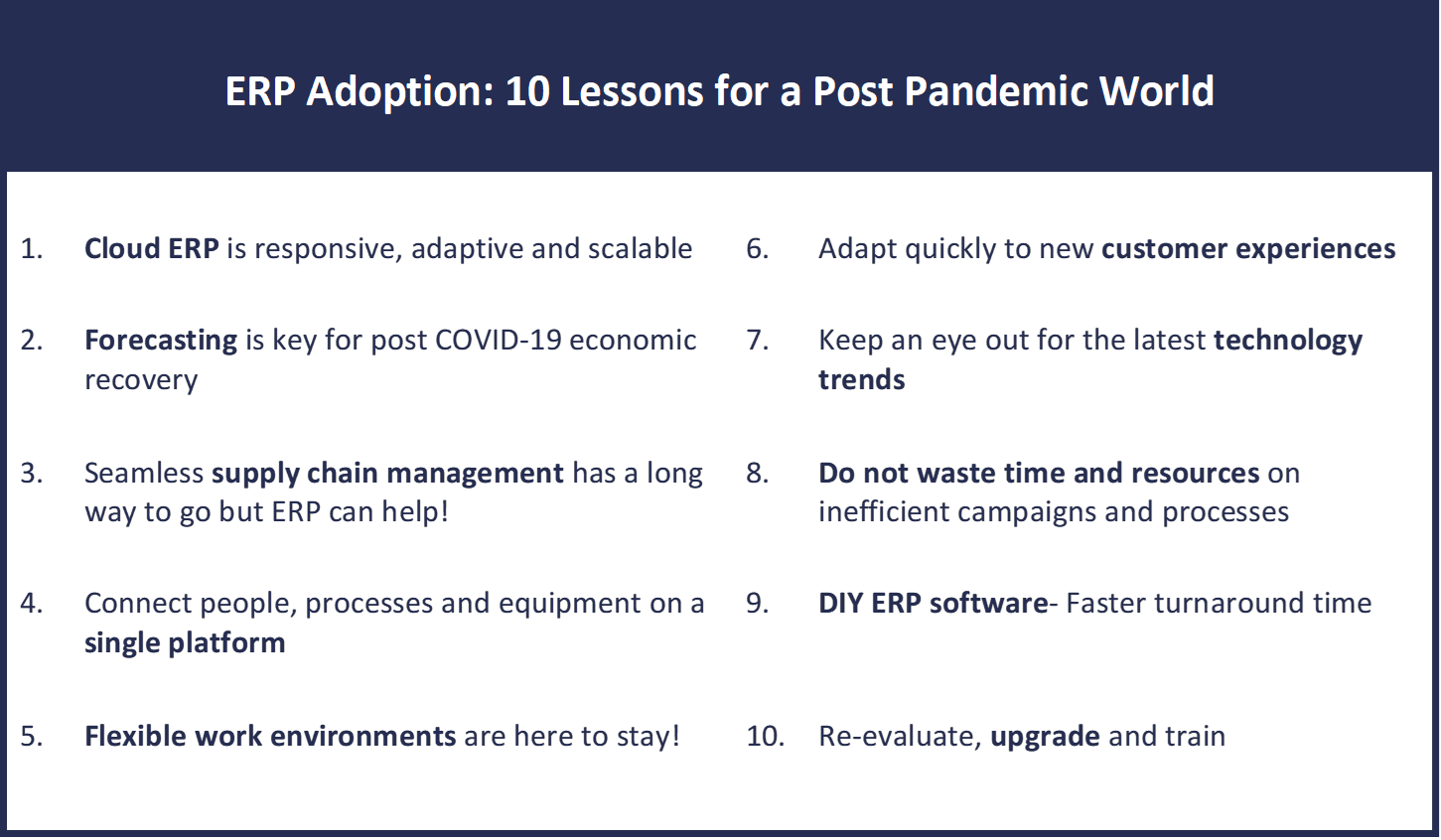 Lesson 3: Seamless supply chain management has a long way to go but ERP can help!
This is probably the second lesson that the world learnt as soon as the effects of the pandemic started affecting lives. With strict lockdowns and only essential staff employed everywhere, the supply chain logistics took the biggest hit.
A lot of new variables have emerged in the post pandemic era, whether in terms of raw materials or human resources. AI can be taught to take variability into account to create forecast reports about demand, purchase, raw materials, labor attendance, delays and more.
Few factors that are critical to have control of the supply chain can be streamlined digitally through manufacturing ERP software that includes fuel management, inventory control, purchase and billing management and GPS tracking.
Lesson 4: Connect people, processes and equipment on a single platform
ERP software is famous for creating a single source of truth as a centralized platform. In order to do that all the current systems, equipment, other devices and applications need to be integrated to enable flow of data across systems.
For instance, for ERP adoption integration requests may include:
Property management tools
Online property portals
Productivity programs
Social media platforms
Communication tools
Direct calling
Machinery and equipment
Company assets
Some integration options are pre-built while others can be incorporated through API integrations and by creating an IoT network.
Lesson 5: Flexible work environments are here to stay!
As lockdowns started popping up all over the world, one of the first challenges for businesses was to suddenly adapt to a new remote working environment. For organizations that were already working on ERP systems, it was no challenge at all.
Even as the world is opening up again and businesses are hoping to retain their lost glory, employees all around the world are asking for hybrid work environments. Cloud ERP provides the perfect business system and user interface for a remote working environment. You can easily onboard all stakeholders of the company and they can complete their journey from hire to retire on the ERP system.
Skilled worker retention and employee engagement too needs to be automated to an extent to receive great results. HR and Payroll software is an example of an ERP system that was very well received during the pandemic.
Lesson 6: Adapt quickly to new customer experiences
Whether it's a locked-in pandemic, the end of it or the beginning of an endemic, businesses must be equipped to handle new customer behaviors. AI-based CRM software adds speed, accuracy and personalization and reduces manual workload.
Despite a worldwide pandemic, customers have been expecting quick and professional service. Businesses quickly began adding new modes of communication for customer support, including chat and text.
AI-powered chatbots and virtual assistants can answer basic questions, provide information about the product or service, simulate human-like conversations, track orders and carry out increasingly complex conversations.
Lesson 7: Keep an eye out for the latest technology trends
Competitive inefficiency was a fear that was quickly realized during the pandemic but as the world emerges from it, many have realized the critical need to integrate the latest technologies.
To survive during uncertain times, businesses will benefit greatly through ERP adoption in addition to finding technologies that solve their problems and integrating them. It is also important to keep an eye out for technology trends for the next year and incorporate them as well.
IoT solutions and apps

Virtual customer service

Electric vehicles

Sustainability

Hyper automation
Any technology integration should be done to help achieve company goals, share data harmoniously among systems and stay one step ahead of your competition.
Lesson 8: Do not waste time and resources on inefficient campaigns and processes
Track your key performance and business indicators to evaluate strategies with data analytics. ERP systems can easily be configured to generate industry-specific reports for key leaders to take data-driven decisions for better results.
Monitor productivity, efficiency, engagement and the return on a campaign. ERP software helps you determine what works and what does not work for your organization. It becomes easy to decide where to redirect the budget, whether to cut down some campaigns or invest more in others.
Lesson 9: DIY ERP software- Faster turnaround time
For a software to be created, there is a talented team of developers writing long lines of code, testing and retesting it. In the new post-COVID environment, more control is being offered to users to create ERP systems that are truly unique to their business.
By offering low code and no code programming functionality, users can create or modify mobile and web apps on their own. Knowledge of programming is not required as the user interface is a visual one, usually with drag and drop features to create a personalized ERP system.
Lesson 10: Re-evaluate, upgrade and train
To keep up with modern counterparts, it is important to re-evaluate your ERP software. Analyze workflows for efficiencies and cut down those that are no longer giving good output. Modify or add new processes if needed.
ERP providers issue upgrade notices which can be downloaded easily through the ERP store. It is important to choose a scalable system because your business needs will change with time.
For successful cloud ERP adoption, training the staff is crucial. The organization leaders and key stakeholders need to be aligned and communicate the ERP strategy to their teams. Analyze workforce sentiment and create a detailed change management plan that includes communication plans and ERP implementation.
As the pandemic demonstrated, operational flexibility and speed are important to fulfill fluctuating demands while easy accessibility and employee engagement is important for an organization to keep going. Digitization and ERP automation will be key in strengthening competitiveness as we move towards the endemic stage.
---