B2B - ERP
StrategicERPs B2B - ERP solution is used by hundreds of organizations to manage their accounting needs. This software accelerates your financial close, provides strong expense management, offers streamlined and auditable revenue management and ensures complete real-time visibility into the financial performance of the business.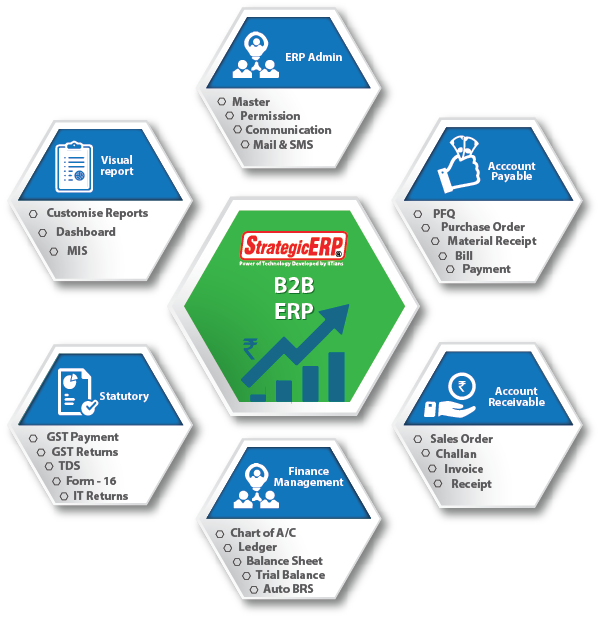 ---
Create Master setup for companies.
Create users and manage password.
Define statutory setup for companies.
Maintain Vendor Master Record for each vendor or supplier doing business with the company.
Maintain the Vendor Invoice Record on the dollar amounts owed and paid to each vendors.
Automatic voucher number assignment to each new vendor invoice transaction.
Maintain Customer Master Record for each customer of the company.
Maintain a Customer Invoice Record on the amounts to be collected from customers.
Automatic voucher number assignment is done when new customer invoice transactions are added.
Administrative setting, user roles and rights management.
Status of mail or SMS sent or received.
It creates general work orders and purchase orders for localized purchases.
Details about task sender and receiver and task list report.
Task assigned through group master.
Manages task updates and auto escalation of all pending tasks.
Generates process report.
Generates joint MIS reports.
Features
Authomates tax complainces posting like TDS, Serivce tax, VAt, SBC
Integration with Tally with FInancial Statements
Comprehensiv FInancial report based on Defined Cost Center with Option of Joint MIS
Advantages
View management reports about current business operations in real time.
Get the most accurate and up-to-date analysis by generating management reports from the same transactional data used for financial statements.
Through MIS ledger & Joint MIS report equip managers with the financial information in business terms to help them make better informed decisions.
B2B ERP Add Ons Module